This guide will show you how to manually upload publications to your app through the Publishing Hub.
When uploading a publication manually, you can specify release and end date, you can manually specify the order of pages through drag and drop, you can edit where sections divide the publication and you can delete a publication. How you do all this is described below.
Note: If you have internal links (link referring to a different page in same publication) it will be removed when uploading this way. You can add it again manually through the Enrichment Editor. External links won't get removed.
Manual upload
Before you start, make sure you are either on the top level of your organization or the title that you want to upload to (since the folders available are based on that selection), then select UPLOAD.

You will then see the following window.
Enter your publication name and select a folder to upload to. Make sure you select the correct folder.
If you want to specify a start or end date, you can do it here. Default is start date instantly and end date is in 50 years if you don't select one.
Then select NEXT.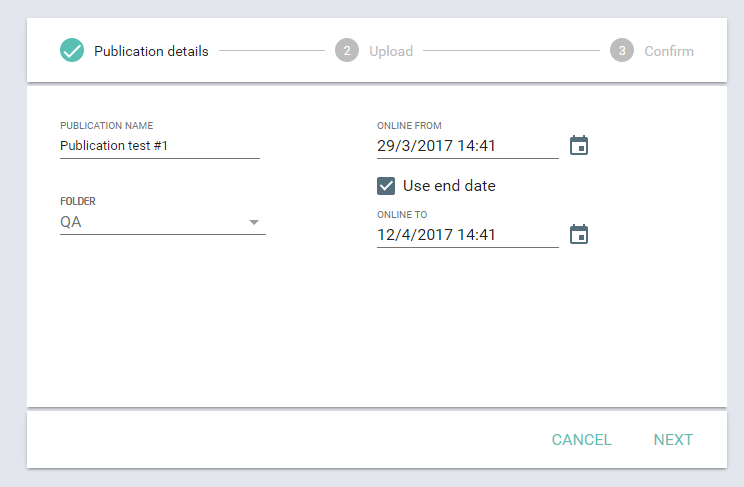 Next window is where you upload your files.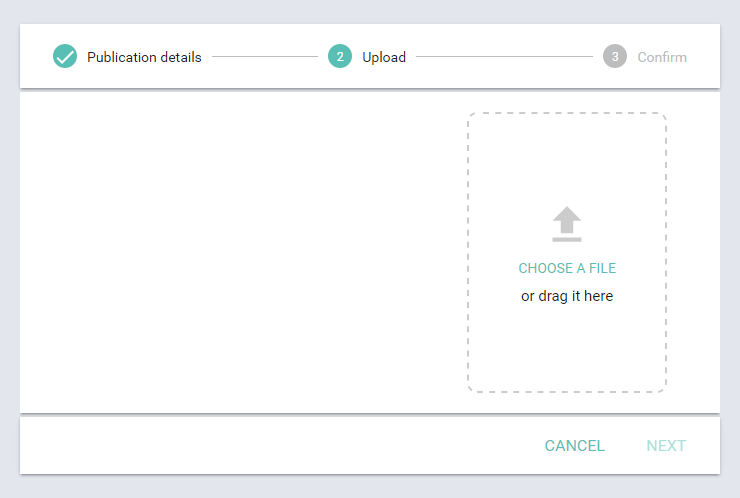 You can select CHOOSE A FILE to open a window and select the files you want to upload. This can be single pages or files with several pages in them, but files must be in PDF format and single pages (no spread pages).
You are also able to select several files at the same time as shown below, or you can drag and drop files from a window to the dotted square.
Note: The max size of each file is 200mb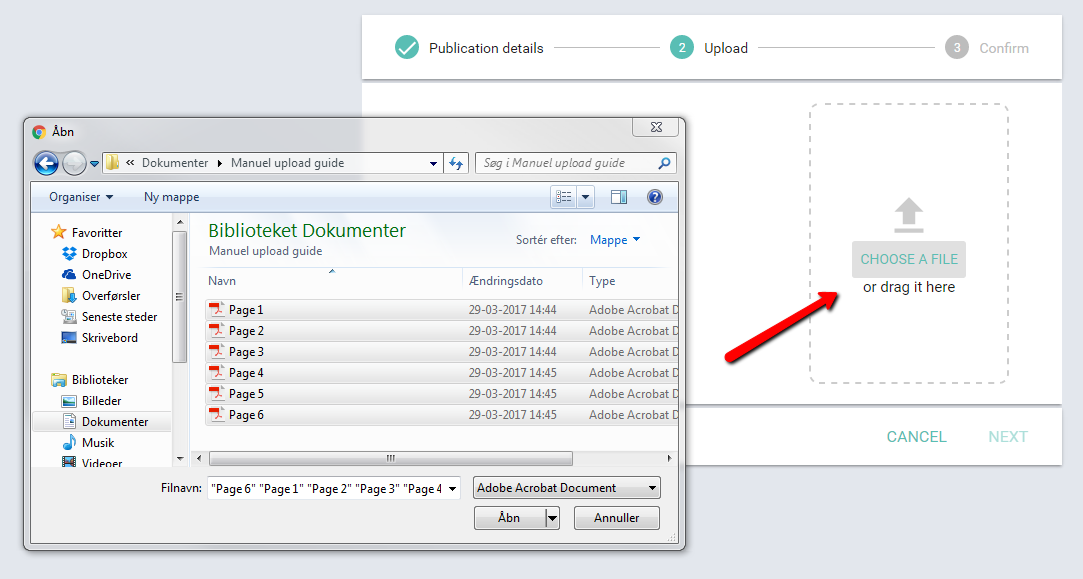 When files are added it will look like the picture below (in this case the files are named "Page X"). You can now drag and drop the files to reorder them, for example if you want page 3 before page 2, you simply drag it there.
When satisfied, select NEXT.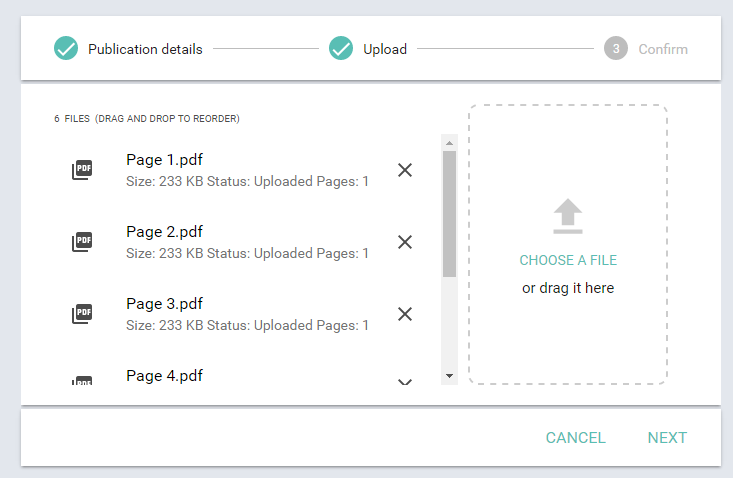 You will then see this confirmation window with all the relevant information.
If you want to go back and change something, you can navigate to previous stages by selecting the stage (either PUBLICATION DETAILS or UPLOAD) in the top.
If you are satisfied with the publication then select START PROCESSING.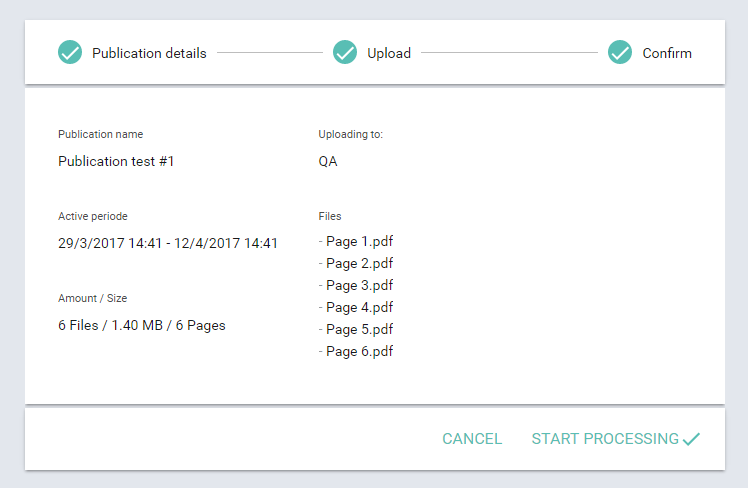 Status of publication
You will then be redirected to the Publication Overview.
There should be a message at the top with an upload status.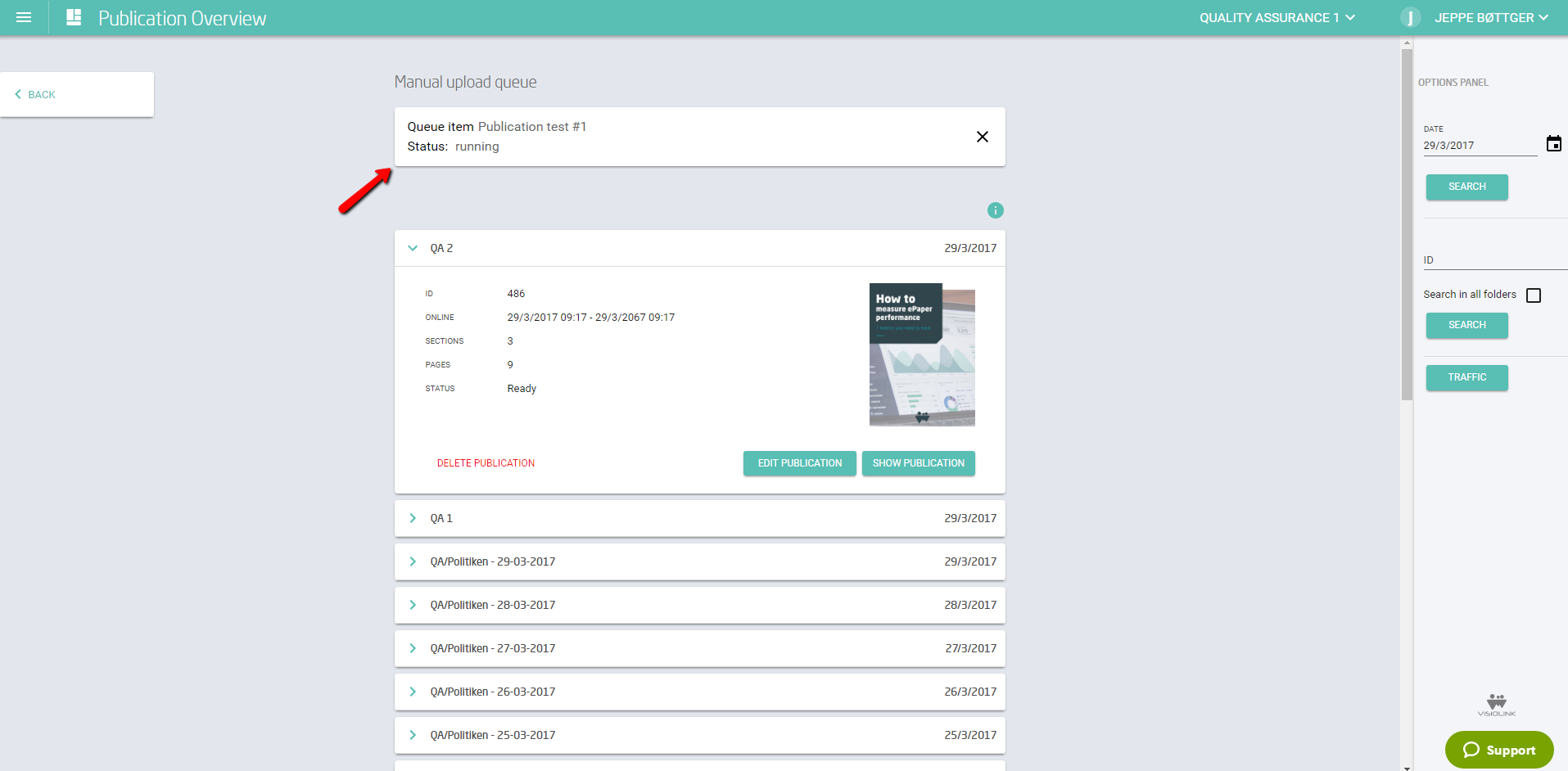 If the processing is queued, you will get the following message. Note that this message doesn't disappear after the issue is processed; you will need to click it away.

When fully uploaded, you can see the publication in the overview.
Here you have an overview of the publication as well as options to edit, show or delete the publication.
Deleting is self-explanatory, although you will get a confirm message.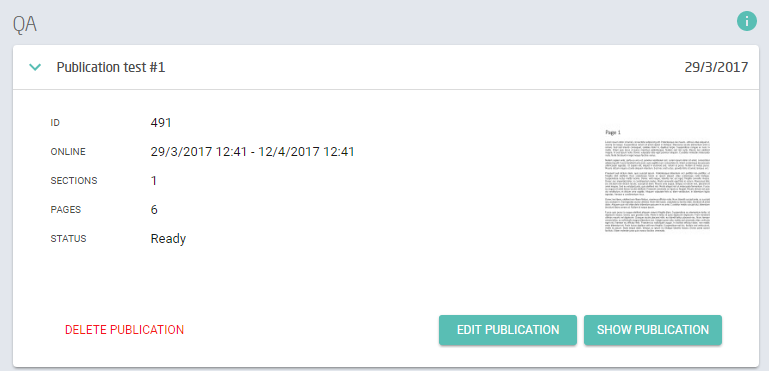 Edit publication
If you select EDIT PUBLICATION you will get the option to edit the publication name, start and end date, as well as edit sections.
You can't add, remove or relocate pages here, as the file is already processed. If you want to edit specific pages in the publication, then you need to delete the publication and upload it again.
When done, select APPLY.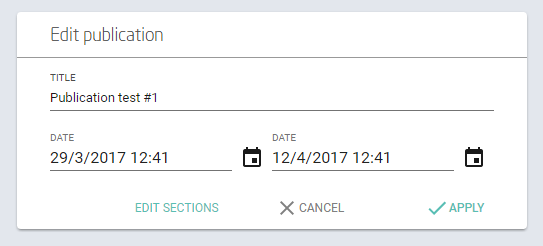 Editing sections is as easy as to click where you want sections to divide. If you change your mind and want to join sections, select JOIN SECTIONS.
When done, select APPLY.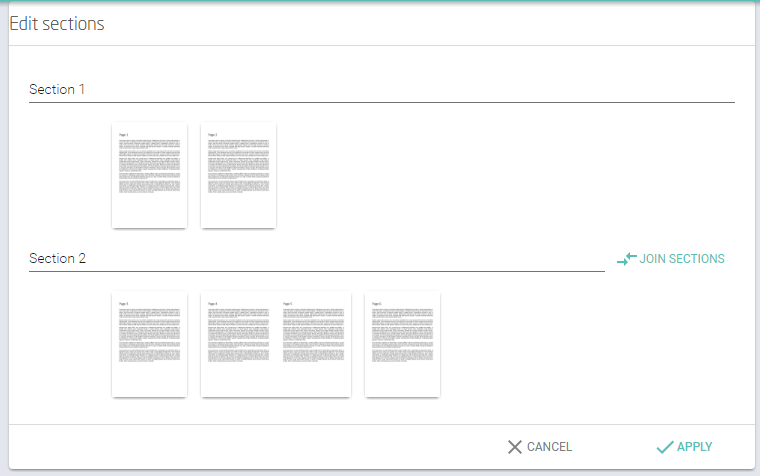 Show publication
Selecting SHOW PUBLICATION will show a preview of the publication, where you can make sure everything is as expected. If not, you can go back and edit the publication.