When you have the feature "Hold & Release" your paper will be processed when files are detected, but it will not go live before the specified release time. Until it goes live, its status will be "On Hold" (see image below)
The publication can be opened from the Publishing Hub by clicking "Show Publication", but it's not available to readers.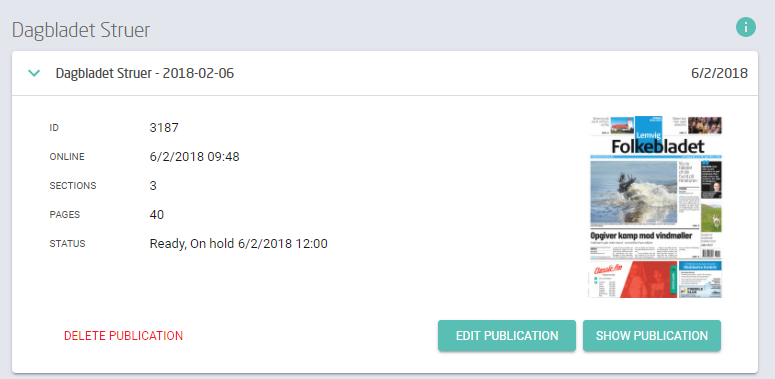 It is possible to change that release time. You can either release right away or you can change the time the paper goes live. This will only apply for the specific edition and is useful when you have a prolonged deadline because of elections or other major events, or you wish to publish the paper earlier because of Breaking News.
You change it by going to Publication Overview, choose the specific edition and press "Edit". Then you see this screen, where you can edit the release time. Remember to press "Apply" when you make any changes!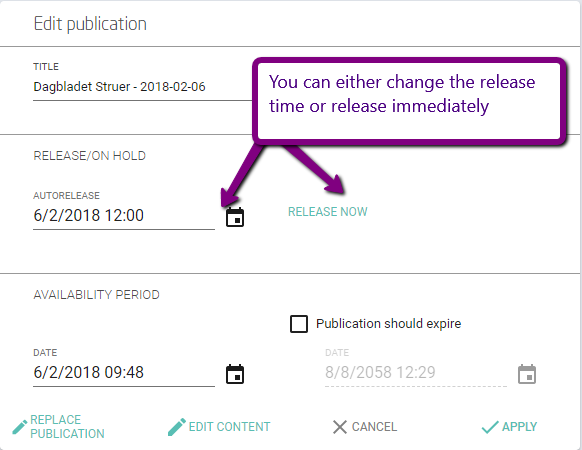 Note that is is only possible once there is a catalogue. So you can't do it several days in advance but need to wait until there is an edition present.
If you have any questions, contact Customer Care and we'll be happy to help!