Apple have added new app requirements for privacy practices and information in all apps in AppStore. This is required for all apps if submitted after December 8 2020.
Apple says:
"Later this year, the App Store will help users understand an app's privacy practices before they download the app on any Apple platform. On each app's product page, users can learn about some of the data types the app may collect, and whether that data is linked to them or used to track them. You'll need to provide information about your app's privacy practices, including the practices of third-party partners whose code you integrate into your app, in App Store Connect. This information will be required to submit new apps and app updates to the App Store starting December 8, 2020."
In practice this will mean two things:
It will be a requirement to fill out information about your app's privacy practices in App Store Connect. Visiolink will take care of this based on the features that are implemented in the app
A new dialog box will appear, if the app contains collection of user data AND these data are shared with a third-party outside your organization (applies to only iOS 14 users only)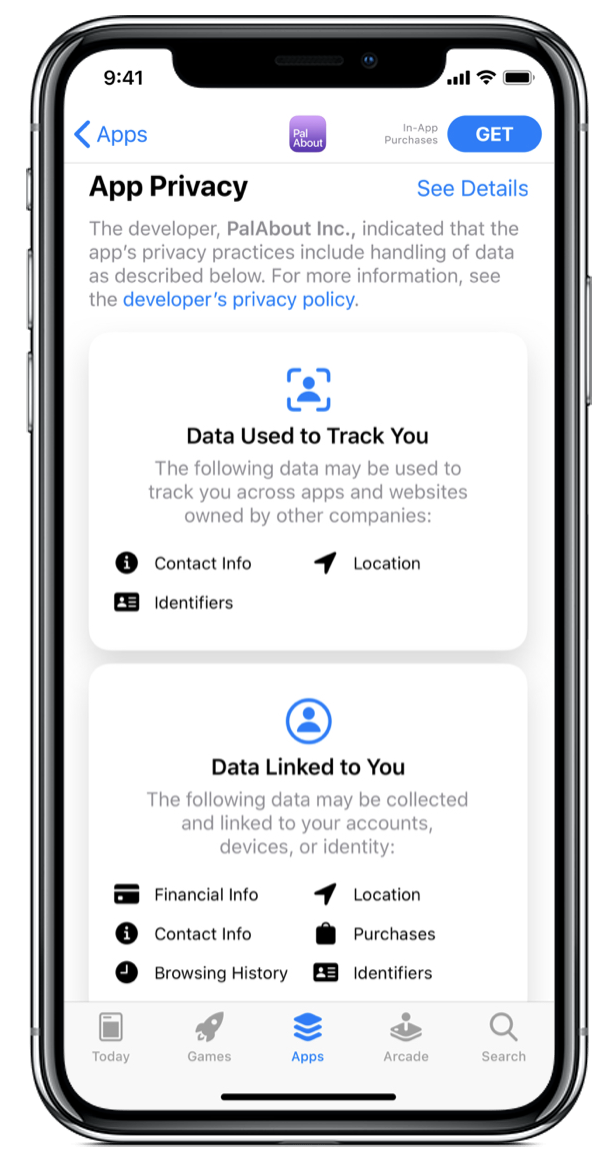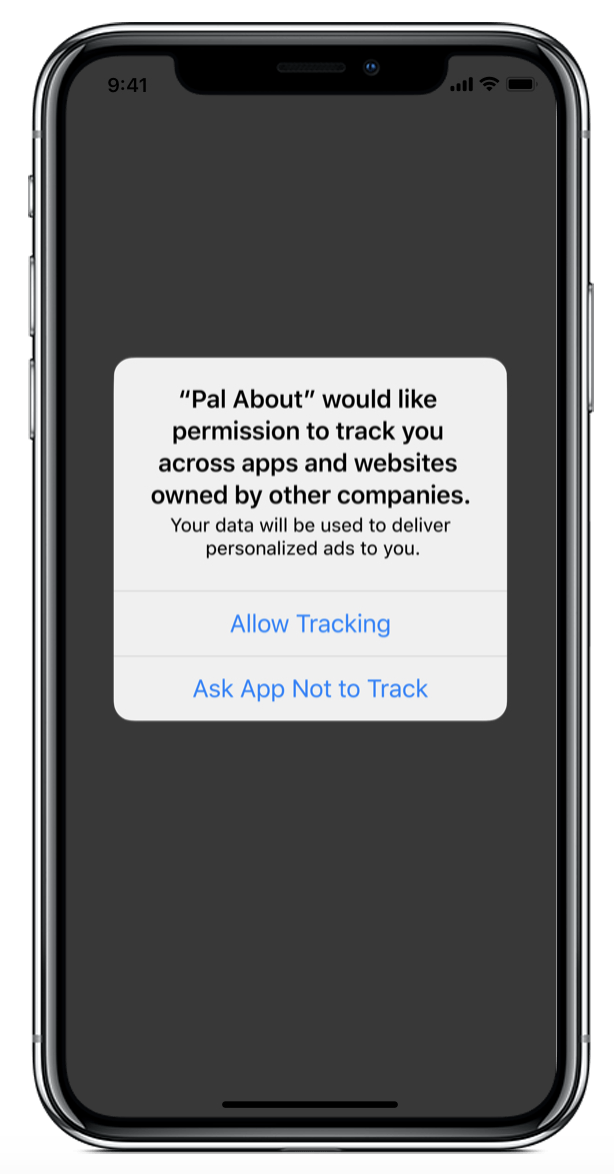 New information in App Store
The new information about privacy practices in App Store is autogenerated, based on a filled out form. This form will be filled out by Visiolink Project Managers. Information is depending on your specific app setup and functionalities. The purpose is to make it transparent to the users, if the app tracks the user, and if the collected data is linked to the specific user or his/her device or account.
New dialog in iOS 14 for some customers
A new dialog showing the first time the users open the app after an upgrade, will be triggered if data collected in the app can identify the user AND it is shared with a third-party with the purpose of following the user across apps and websites (e.g. for retargeting).
This is similar to the GDPR dialog, but is not a replacement. On iOS 14 the GDPR dialog will be displayed after the new dialog. There is no new dialog on older versions, so they will only have the GDPR dialog.
If one or more of the following applies to your app, the Apple dialog is activated:
The app contains a Google Ad Manager or other third party ad integration
The app contains user tracking AND the user data is shared with a 3rd party not within your organization
Otherwise, it is not necessary to show the dialog. This means that if the app contains Firebase only (or an audience tracker like ComScore Readership Index or LinkPulse), or if the app contains user tracking but you don't share the data outside your organization, the dialog is not required.
Frequently asked questions:
Q: Is it possible to select a different wording in the box displayed?
A: Yes and no.
Fixed: [App name] would like permission to track you across apps and websites owned by other companies Can be changed: Allow data collection to help us improve the app and for advertising purpose. Please inform your project manager if you would like a different wording
Fixed: Allow Tracking and Ask App Not to Track
Q: What happens if a user selects "Ask app not to track"
A: Tracking will still be active but user ID and ad ID will be replaced with 000000. Data is not linked to the user
Q: Will App Tracking Transparency replace GDPR?
A: No. The app will show both App Tracking Transparency (from iOS 14) and GDPR the first time the user opens the app. Both will be displayed only once (the App Tracking Transparency comes first). GDPR concerns all tracking. Read more about GDPR here
Official information
Official information from Apple: https://developer.apple.com/app-store/user-privacy-and-data-use/
Details, including types of date: https://developer.apple.com/app-store/app-privacy-details/