Social Sharing 2.0 is a new sharing system from Visiolink designed to work consistently across platforms with a branded sharing page. It works by sharing a link to a branded sharing page (Landing page) with shared article information through either Email or Social Media.
Visiolink's Social Sharing 2.0 ensures the end-user:
A branded experience: Brand logo, brand color and publication title are displayed on the landing page

A consistent user experience across platforms: No matter where users are sharing from/to, Social Sharing 2.0 ensures a consistent user-experience across platforms
Visiolink's Social Sharing 2.0 gives you the possibility to:
Identify sharing sources: If requested, Visiolink can deliver data parameters which make it possible for you to identify the sharing source when forwarded to your webpage e.g., Facebook, Twitter, etc.
Display as much of the shared article as you wish: You decide how much of a shared article is visible to users based on number of characters
Include up to three buttons on the landing page: "Open App Store", "Open Play Store", and a customizable button, commonly used to link to your website
Link Sharing
Social Sharing 2.0 works by sharing a link to a Landing Page. We can share link through various means like Facebook, Twitter and LinkedIn. All apps that Andoid/iOS support is also supported by us. On web it's only Facebook, Twitter, LinkedIn and mail.
It's not up to us how the different applications visually display the links, but we've added handles for them to display images and headline, text, etc.
Below you can see an example of an article shared on Facebook (Web), Twitter (iOS) and WhatsApp (Android).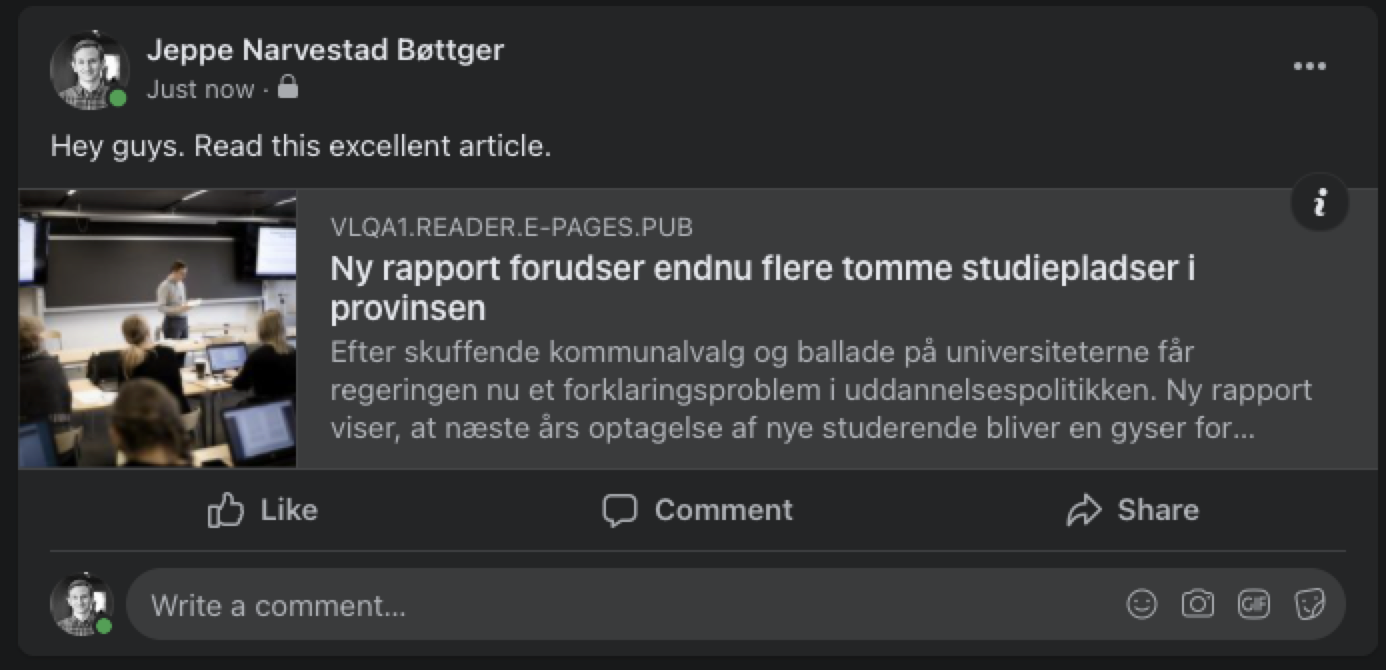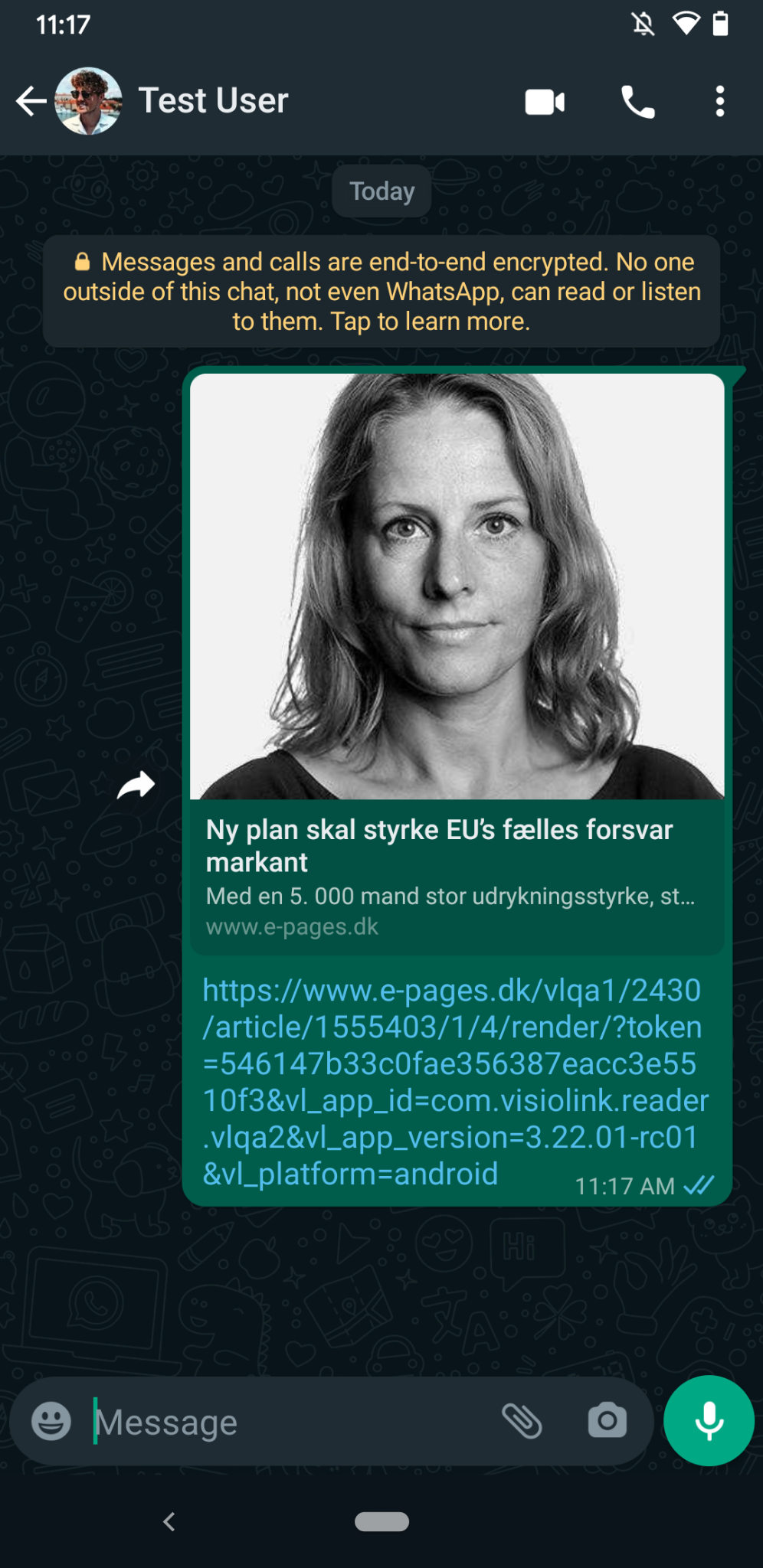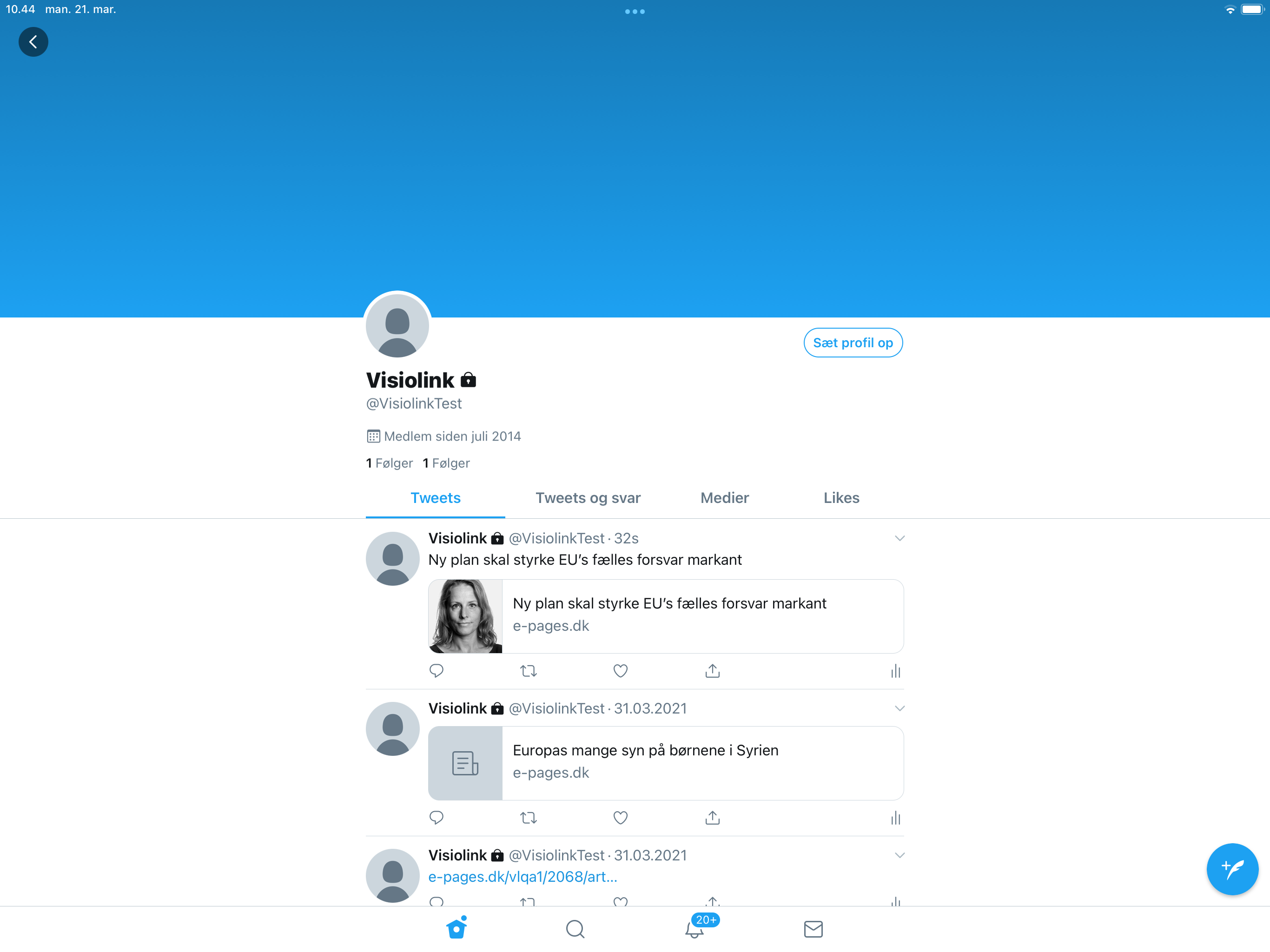 Email Sharing
When sharing through Email we will pre-fill the email with some text, an article headline, article blurb and a link to the sharing page. An example can be seen here:

Note that not all email clients works the same and some will not allow us to pre-fill information and use HTML formatting, so those mails will just be the title and the link.
Landing Page
When links are shared via Social Sharing 2.0, social media users who click/tap these links will be directed to a landing page. This landing page consists of a brand logo and publication title, article content (article image, headline, blurb and article body) 3 buttons and the option to increase/decrease text size. See the example below: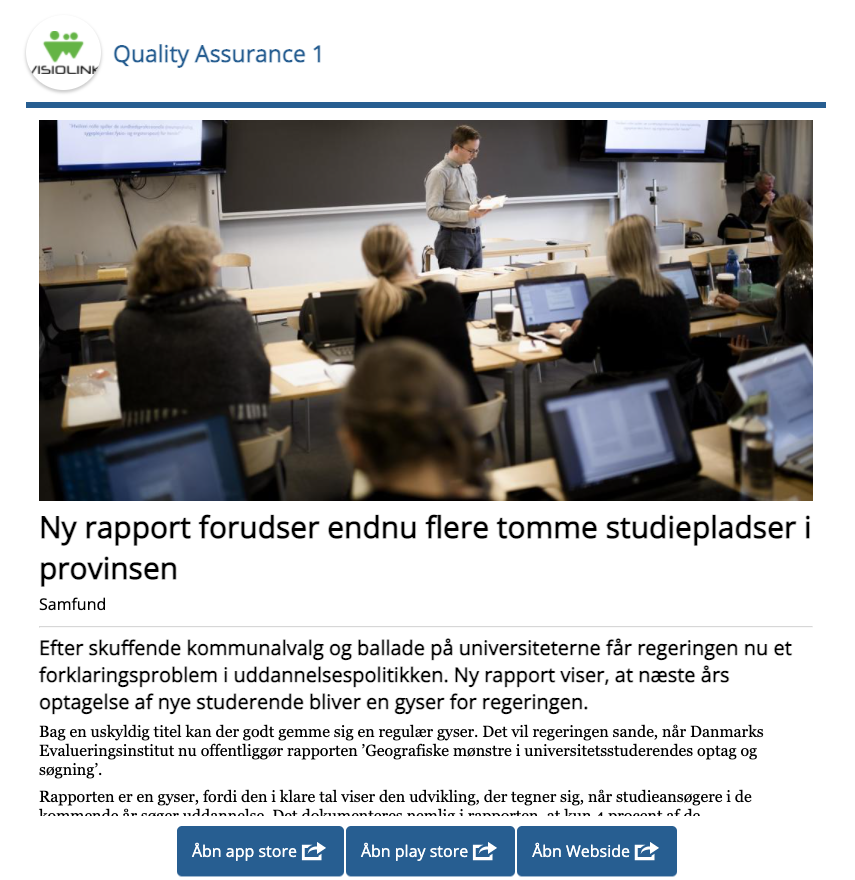 Landing Page Buttons
The buttons will be to "Open App Store", "Open Play Store" and "CUSTOM". The custom button can go anywhere you desire, ie. go to your website, go to where customer can buy subscriptions or go to the article itself (would require the Universal Links feature).
You can decide if all or some of the buttons should be hidden.
Extra Markup Parameters
If you send the reader to your webpage we can add extra parameters that you can use on your end. Below, the possible markup parameters are listed, followed by an explanation and an example:
[

PREFIX]

= Visiolink title prefix = VLQA1


[FOLDER]

= Visiolink Folder ID = 7698

[DATESTR]

= 6 digit date = 060421)


[ARTICELTITLE]

= Title of the article =

at_lukke_os_i_en_forløjet_lynaktion_er_simpelthen_en_skamplet_på_demokratiet




[ARTICELID]

= Article reference ID = 1329323/8/1




[PUBLICATION]

= Visiolink publication ID = 2242


[REFERER]

= Type of sharing = facebook
What are the requirements?
For the optimal experience you need to be on the 2021 December release for both Android and iOS.