In Hub release 1.21.01 we have added a functionality for you to change GDPR settings for your web solution without needing to contact Vitec Visiolink.

Not everyone will be able to see the GDPR option. It requires that your user have the GDPR permission. If you don't have the permission, then contact Vitec Visiolink's support to get it.
How to insert Privacy Policy link
Any Visiolink web solution should have a privacy policy to be GDPR compliant. This is not something Visiolink will host, but we can link to it from the GDPR and you can set it up yourself.
1) First off open the GDPR option menu
If your company has several titles in it, it would make sense to open it at the highest level as you can see all titles nested within.
It will look something like the image below. To the left you have a view of all titles within your organization in a nested view. To the right you will have symbols and action buttons for each title. The symbols are described at the bottom.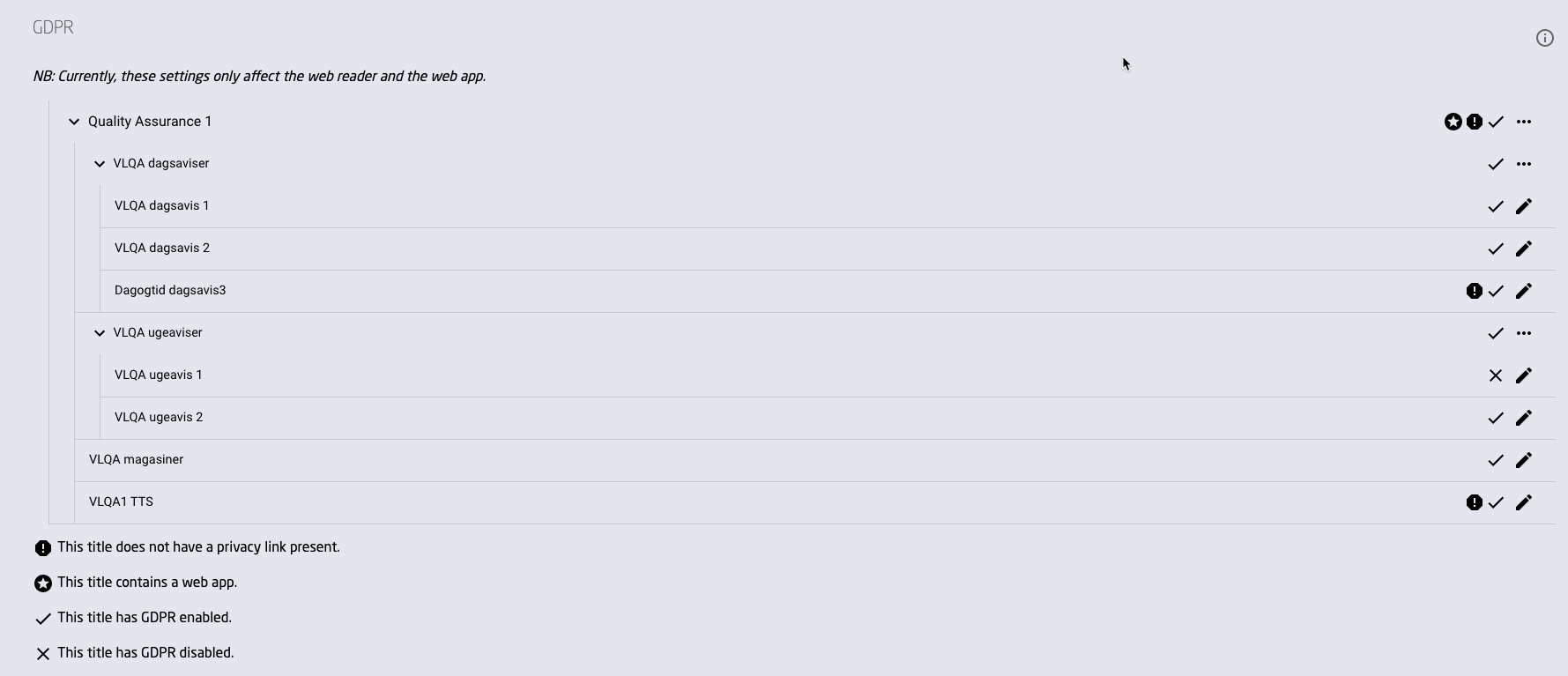 2) Select your title
Most titles will have a pen action icon. Click it and you can set the GDPR settings.
Other titles have 3 dots as the action icon. These are titles with nested titles in them. Here you will get the option to either edit the current title or edit all nested titles as well. This makes sense if all nested titles need the same settings, so you don't need to repeat the same action several times.
The most common use case is to select the highest level and apply the change to all below.

Some titles have a star next to them. This indicates a Web App. When changing this title, the change will also affect the Web App.
Note: We need to differentiate between GDPR settings for titles (what you see when you have opened a specific publication) and web app (where you can choose different publications), because some of our customers need different privacy policy url for each title.
3) Set settings
You can now write settings in for the title (or nested titles). At top you can turn GDPR and tracking on/off.
Below that, you have the option to set up to 3 privacy policy urls or other links. They each need a label (the text displayed to the user) and a URL (the link the user goes to when clicking on it).
You have the option for up to 3 links, but most common use case is only one link. Leave the others blank if you don't want to use them.
When done, click Apply.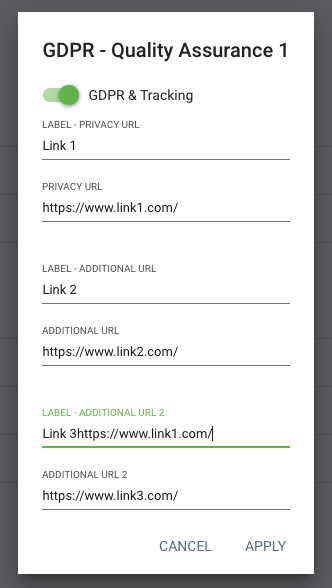 4) Test that it works as expected
Go to your Visiolink web solution and check that it works as expected.
For the settings above it should look like this.