How to create a GA4 property for your epaper:
Go to your current Google Analytics account:
https://analytics.google.com/analytics/web.
You will be met with this banner in the top. Click 'Let's go'.

You will be transferred to this overview:

Click 'Get Started' and create property (or go directly to your GA4 property if you already created one).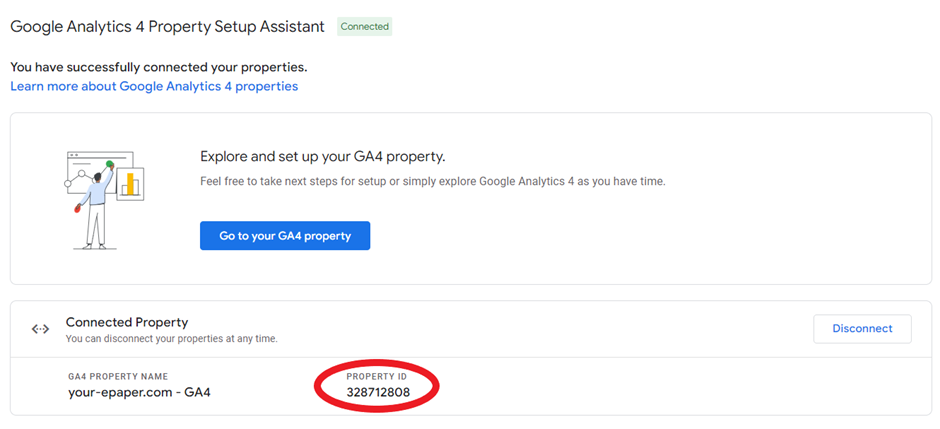 You have now created a new GA4 Property and got a Property ID.
It is important that you save this Property ID and send it to Visiolink. Further you need to give us access to the account in order to check the data flow: https://support.visiolink.com/hc/en-us/articles/8137190655634-How-to-provide-edit-access-in-GA4
You now have a new GA4 property, however data will not automatically be sent to here. Therefore, the next steps are critical to ensure that you get data to your new property.
Get data to your GA4 property:
Click 'Go to your GA4 property' (picture above). If you already have a GA4 property then go directly to it.
The next steps are necessary in order to get data sent to your property.
The first step is to go to the 'Admin' tab in GA4 and add new data stream - this should only be done for the web streams: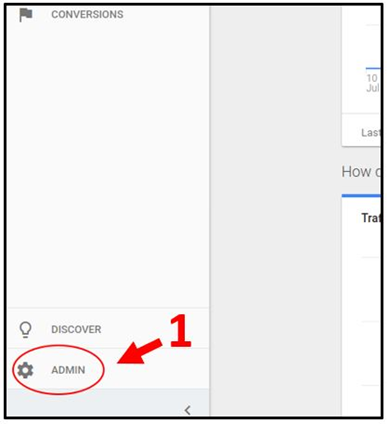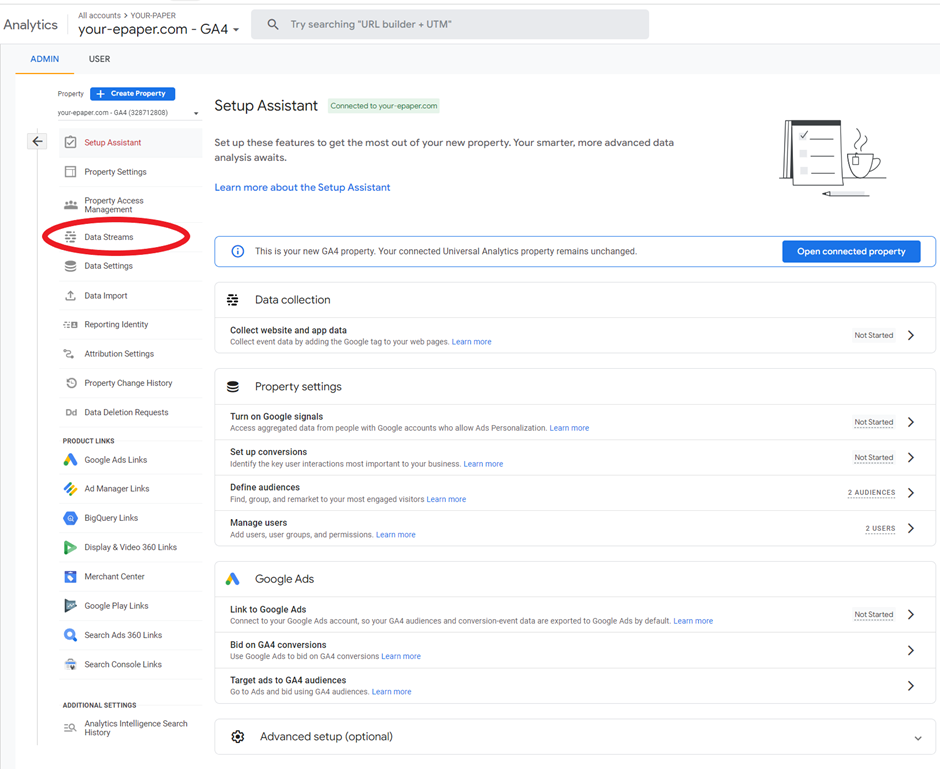 You only need to set up a web data stream. For iOS and Android we will like these to your new account.
Adding an iOS and Android data stream:
Please contact your project manager when you are ready to set-up your app data steams or contact BI specialist Michelle Nielsen at michelle.sondergaardnielsen@vitecsoftware.com.
We will help connect your app steams to your GA4 property. When the streams are set up you/we can download the GoogleService-Info.plist on iOS and GoogleService-infor.jason on Android.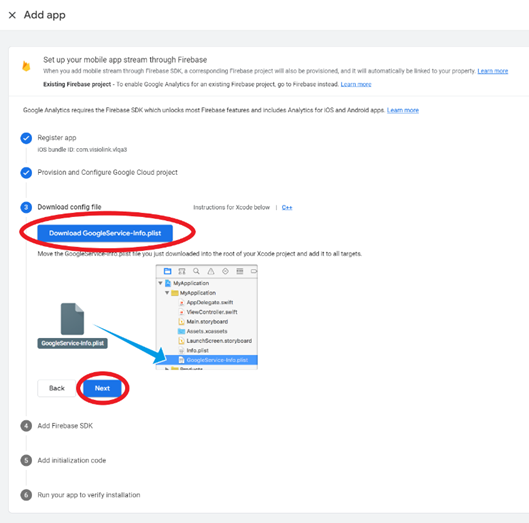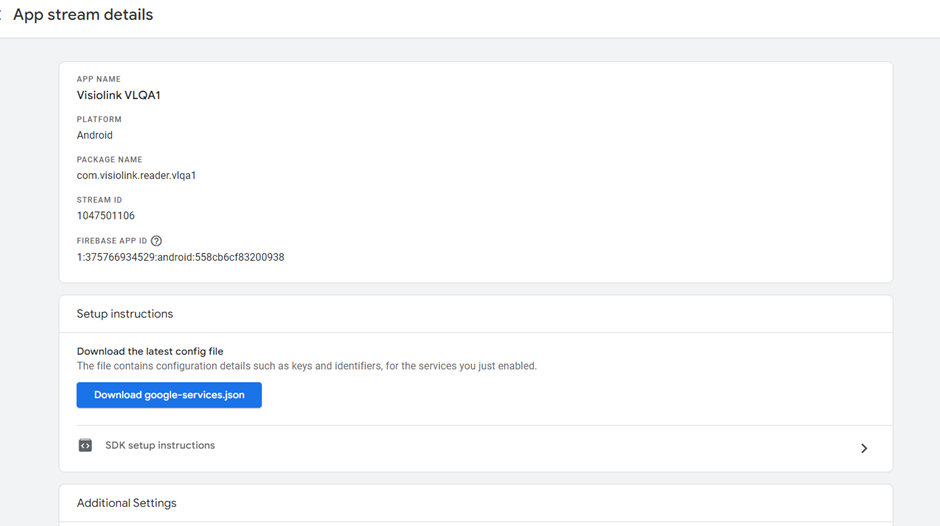 Adding a web data stream:
Go back to add data stream and click 'Add stream' and choose web stream.
Here you need to add the URL from your website and add a stream name. The stream name and stream URL is not dependent, therefore if you choose an overall name or the wrong URL the web stream will still work.
When you have created your web stream you will get a similar overview: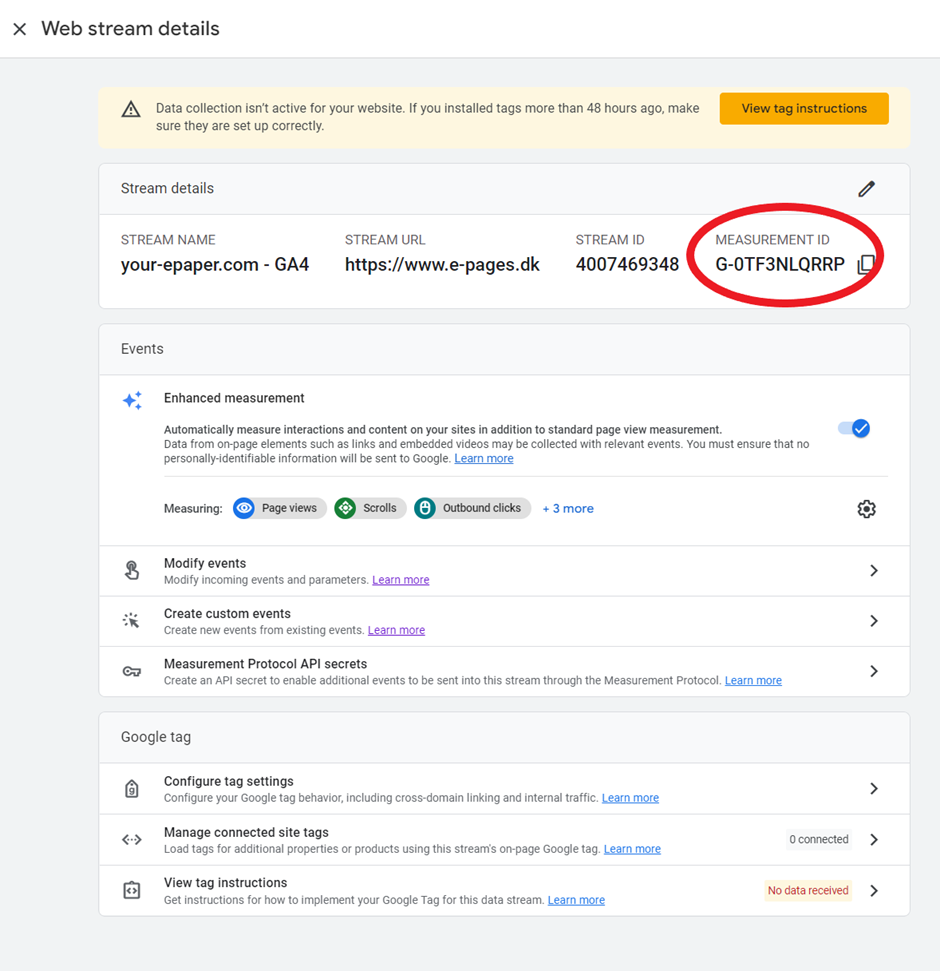 Here we need the Measurement ID to complete your set-up. Therefore, important you sent this ID to your Visiolink Project Manager.
This is the only thing you need to do for the web upgrade to GA4.
Sum up:
If your app/apps are on all 3 platform you will need a iOS, Android and Web data stream.
You will need to send to Visiolink:
GoogleService-Info.plist file on iOS
GoogleService-Info.json file on Android
Measurement ID on web
Property ID for your GA4 Account
Give access to the GA4 property id